Restoration & Repair
Our repair and restoration goals are simple: Provide you a high level of quality craftsmanship for the restoration and repair of your tile, grout and caulk.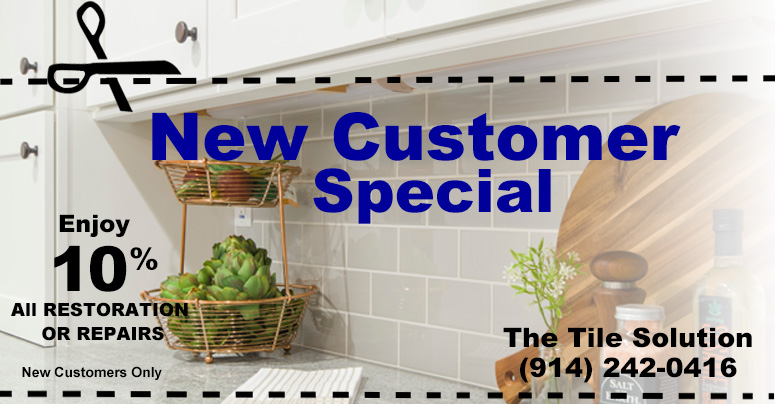 Enjoy the look and feel of a fresh renewed room but at a fraction of the cost of a full blown renovation.
You can put your faith in The Tile Solution to find the most effective and efficient way to solve your tile, grout and caulk issues with care and expert quality craftsmanship.
Tile Repairs:
Cracked and broken tile replacement, tile damage following plumbing work and loose tile re-installation.
Grout Repair and Replacement as Needed.
Grout Coloring
Re-Grouting
Re-caulking
Stone and Grout Cleaning and Sealing
Stone Resurfacing
Scheduled Maintenance

We Respect the Cleanliness Of Your Home
We roll out the carpet and use booties to ensure we leave no mess behind. We dispose of all waste and leave the area clean.
ON-SITE SAMPLE SERVICE: Our customers enjoy the "shop at home" convenience of our On-site, tile, stone and grout sample service, offered exclusively by THE TILE SOLUTION.
FLEXIBILITY: We offer our customers the option of selecting and providing their own tile, stone and grout choices, outside of those available through our On-site Sample Service.

PICK-UP and DELIVERY INCLUDED: As part of our complete service, THE TILE SOLUTION provides for the transport of all tile, stone and setting materials from any supplier within twenty-five miles of our office.
---